What is Patient Pre-registration?
Patient pre-registration is the process of collecting relevant patient information before the day of the appointment. Similar to the patient intake process followed at the facility, the practice captures demographics, clinical data, insurance information, payments, and consents. The only difference is all the information is collected before the patient visits the clinic.
How Does Patient Pre-registration Help?
Collecting patient information on the day of the appointment is stressful for patients and staff alike. For instance,
On an average, patients take at least 20 minutes to fill out paper and pen forms. As registration takes longer, wait times become higher
61% of claim denials are caused due to simple demographics or technical errors. Managing multiple patient registrations simultaneously at the clinic increases inaccuracies
Patient pre-registration focuses on minimizing the hassles of a patient intake process during the medical visit. By collecting patient data in advance, pre-registration improves patient experience and staff efficiency. Here's how:
1. Helps patients prepare to improve data accuracy
Patients who come for an appointment are either in a hurry or anxious about visiting a clinic. Add to this the pressure of filling lengthy paper forms. It's a disaster for the patient experience.
The stressful environment is not ideal for capturing accurate data. Most patients struggle to recall their surgical and medical history on the spot. The result is that they tend to miss out on crucial information. This can be detrimental for both the patients and providers.
Pre-registration allows patients to complete the intake forms at their own pace. They can fill the forms comfortably from anywhere, providing demographics, medication lists, and other medical history information. With such flexibility, patients are more likely to provide accurate data.
2. Access patient data beforehand
Capturing patient data, processing registration, and managing patient flow at the same time is a challenge.
Forms need to be prepped. The staff needs to follow up on missing data. Some information needs to be verified. Medical assistants are in a hurry to capture the data and pass it on to the providers. The inefficient process gives very little time for the providers to analyze a patient's condition.
Patient pre-registration allows the staff to capture patient data in advance. With access to patient data, the clinical staff has enough time to organize, review, and share information. Not only does this alleviate the burden of in-person registration, but it also helps in preparing the providers.
3. Saves time for both patients and staff
Patient pre-registration is a time-saving process for both parties. Instead of turning up early to complete the forms, patients can come in directly to see the provider. The result is faster care delivery and better patient satisfaction.
As for the staff, they can refocus on customer-centric duties rather than performing clerical activities. By saving hours spent on collecting and verifying patient data, the staff can process check-ins faster.
The combined benefit for the patient and staff help minimize wait times, improve staff efficiency, and provide a better care experience.
Traditional vs Digital Patient Pre-registration
Traditional Patient Pre-registration
The staff mails the forms (or)
The staff scans and emails the intake forms. The patients print and fill out the paperwork
Digital Patient Pre-registration
Patients receive the pre-registration link via SMS or email
They could use their mobile or any other personal device to complete the forms
Challenges of a Traditional Patient Pre-registration Process
The paper-based approach covers all the benefits of a patient pre-registration. However, the traditional approach has its fair share of drawbacks.
An average postage cost per packet is around $0.55-$1 (based on the postage ounce). Mailing paperwork to the patient population becomes expensive
Most practices note that patients didn't return the forms or came back with incomplete paperwork
5 Ways Mobile Patient Pre-registration Adds Value to your Practice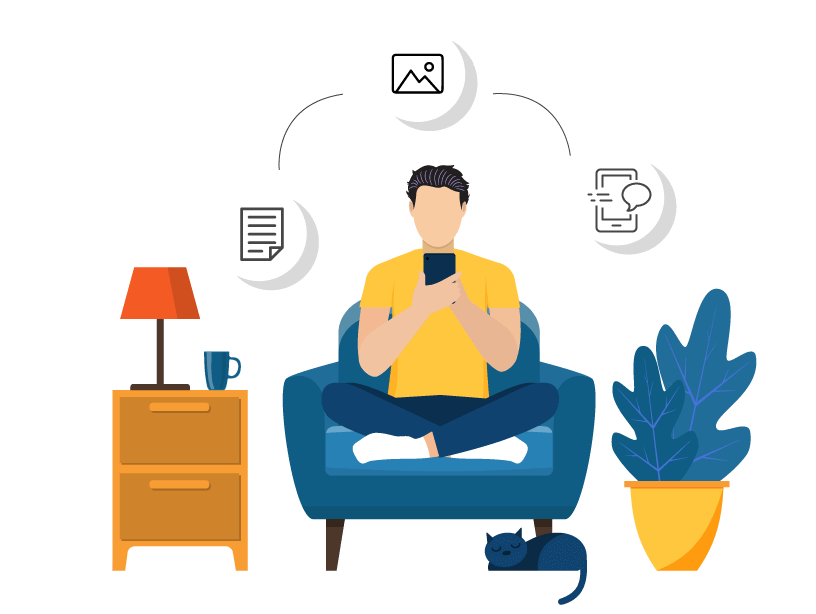 Patient pre-registration via internet-connected devices is a great way to transform your check-in experience. With the pandemic accelerating the digital adoption in healthcare, self-service technology has now become a top preference for patients. Practices can leverage this rising popularity to address inefficiencies and enhance the patient experience.
Here are 5 ways mobile technology takes the benefits of pre-registration one step ahead:
1. Digital convenience for better patient experience
With mobile pre-registration, patients have the freedom to complete the intake when they want, where they want. Using their mobile, tablet, or desktop, patients can provide their personal and medical data comfortably.
Digital patient intake forms can capture information shared by the patients during their previous visits. All they have to do is review and update the existing data. This way, digital forms also eliminate the cumbersome task of filling out redundant questions during every medical visit.
Such a level of digital convenience leads to higher compliance and better patient satisfaction.
2. Strengthen patient payment collection
Patient pre-registration can be considered as the beginning of the revenue cycle. Practices have an opportunity to collect payments even before the patients step into the clinic. In fact, this has proved to increase payment collection.
Practices experience a 15% increase in patient payments prior to service
Your practice can use digital tools to collect co-pays and balances during the pre-registration process. Once the patient completes the intake forms, they can be directed to the payment screen.
3. Capture necessary patient data
Another critical feature that makes digital patient pre-registration a winner is its ability to include mandatory questions. Unlike paper forms, digital forms can be designed to include mandatory questions. This ensures that the patients are able to complete the intake process only after they have answered all the important questions. This is particularly helpful for practices that require certain consents, medical histories, and other patient data to be filled out for a specific appointment.
Read how Memphis Neurology saw a record 10x improvement in collecting past medical history and Social Determinants of Health (SDOH) using digital intake.
4. Zero-touch, safer intake
Based on a recent study, nearly 36% of nonelderly U.S. adults and 29% of U.S. children have delayed or deferred healthcare altogether due to fear of COVID-19 exposure.
Mobile patient pre-registration allows practices to address such apprehensions by offering a zero-touch pre-registration. Using their personal devices, patients can fill up the forms at home. They have to visit the clinic only for their appointment. And during the entire process, there is no exchange of paper or any surface contact. This way, practices can bring patients back to the clinic.
The zero-touch pre-registration also creates a safe environment for your staff. With no manual hand-offs and minimal physical interactions, you can create safe care delivery for everyone.
5. Organize patient check-in with automated workflows
Unlike mailing paperwork, mobile patient pre-registration alleviates staff burden. Mobile patient pre-registration lays the groundwork for a digital intake workflow.
Using pre-defined workflows, the staff can send pre-registration links to the patients automatically. Earlier, the staff had to copy the data from paper; a digital solution helps capture patient data directly into the EHR. The automated process can help tremendously in minimizing manual workload and improving staff efficiency. As a result, the practice can minimize wait times and push patients to the exam room faster.
Learn how Premier Surgical Associates reduced 75% of their pre-screening efforts using mobile patient pre-registration.